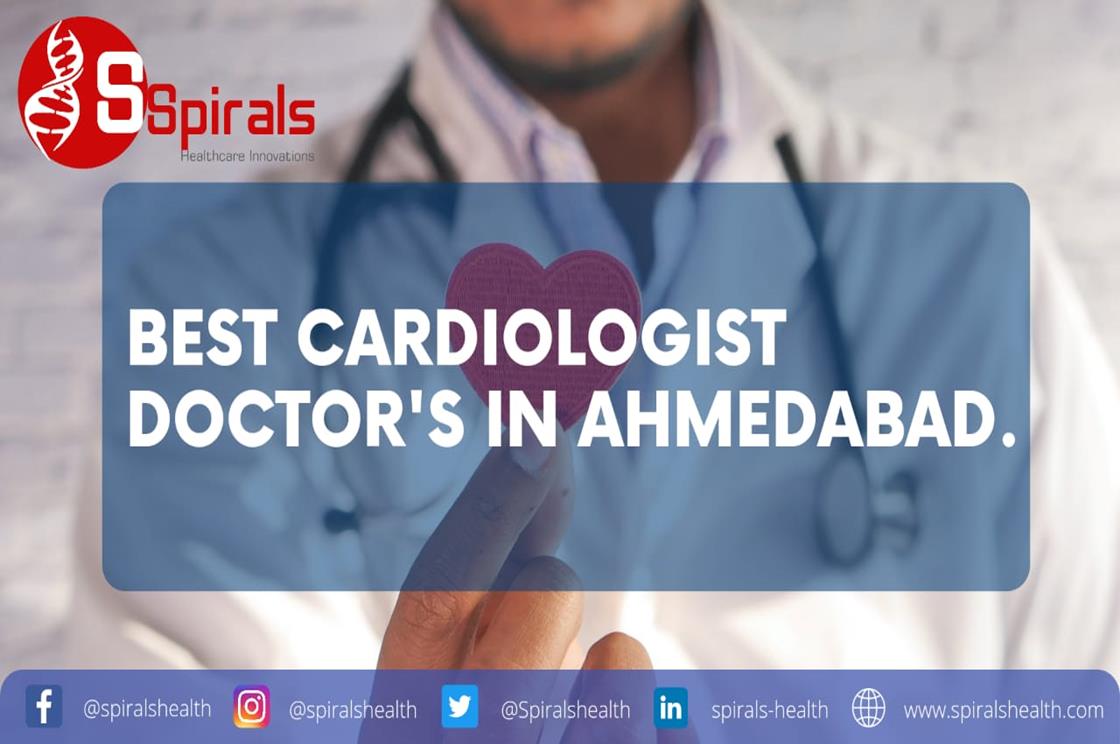 Take care of your Heart with the Best Cardiologist Doctors in Ahmedabad
Cardiologist
Cardiologists in Ahmedabad are doctors who have specialization in diagnosing and treating diseases or conditions of the cardiovascular system (heart and blood vessels). You can also visit a cardiologist doctor in Ahmedabad so you can know about your risk factors for heart disease and find out what precautions you can take for better heart health. When you are experiencing complex health problem like heart disease, it is important that you find the right match between you and your specialist.  
A diagnosis of heart or vascular illness frequently starts with your primary care doctor, who then refers you to a cardiologist. The cardiologist doctor evaluates your symptoms and your clinical history and may suggest tests for a more definite diagnosis. At that point, your cardiologist decides if your condition can be managed under his or her care using medicines or other available treatments. If your cardiologist decides that you need surgery, he or she can refer you to a cardiovascular surgeon, who specializes in operations on the heart, lungs, and blood vessels. You will live under the care of your cardiologist doctor in Ahmedabad even when you are referred to other specialists.
Cardiology
It is the study and treatment of issues of the heart and the blood vessels. A person with coronary disease or cardiovascular disease may be referred to a cardiologist. Cardiology is a part of internal medicine. A cardiologist is not the equivalent to a cardiac surgeon. A cardiac surgeon performs open heart surgery.
How can Hypertension impact your heart?
Hypertension (high blood pressure) and Heart are firmly related. It can be worsen the health of heart. You can also call Hypertension or High blood pressure a silent killer; it can lead you to the heart attack. Hypertension is a serious medical condition it happens when the pressure of the blood pumping through your arteries is excessively solid so that it can result into the harm of the blood veins and be the cause of health problems such as heart attack, cardiovascular breakdown, stroke, and kidney disease.
Common Symptoms of Hypertension
Severe headache

Chest pain

Difficulty in breathing

Fatigue

Vision problems

Pounding in your chest, neck, or ears.

Irregular heartbeat

Blood with the urine
Causes of Hypertension
Consuming excess salt

Drinking alcohol

Smoking

Obesity

Less Body Workout

Eating an unhealthy diet

Diabetes

Not enough sleep

Taking lot of stress etc.
When would I need a cardiologist?
If a person is feeling any symptoms related to heart condition, their physician may refer him or her to a cardiologist.
Symptoms which can be the reason of a heart problem include:
shortness of breath

dizziness

chest pains

changes in heart rate or rhythm

high blood pressure
A cardiologist doctor in Ahmedabad can suggest you the test for an abnormal heart rhythm or for heart murmur. They treat patients who have had a heart attack, heart failure, or other heart problems. Cardiologists also help in making decisions about heart surgery, catheterization, and angioplasty and stenting.
Heart diseases that a cardiologist can help with include:
atherosclerosis

coronary heart disease

congestive heart disease

high blood cholesterol and triglycerides

atrial fibrillation

arrhythmias

congenital heart disease

hypertension

pericarditis

ventricular tachycardia

high blood pressure, or hypertension
The cardiologist doctor in Ahmedabad can give advice about preventing heart disease. Doctors can also suggest you to see a cardiologist, if you have a family history of heart problem or have high cholesterol problem, if you are or have been a smoker, if you have diabetes problem, or if you thinking about starting a new exercise program.
People who belong to the metro cities have the more chances to have health or heart problem because of their busy life schedule and pollution becausethey can not easily avoid junk food or can change their unhealthy life style. In big cities of India like Lucknow, Delhi or Ahmedabad we can find the best doctors for you to take care of your health.
Finding the best doctor has become a nearly impossible task but in Ahmedabad we can make it easy for you. You can online find Best General Physician Doctors in Ahmedabad through spirals health.