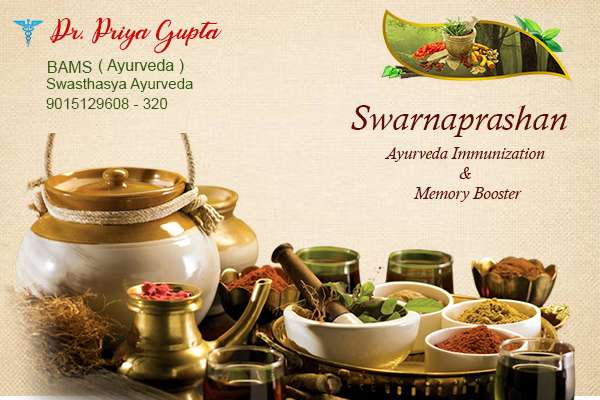 Swarnaprashan - Ayurveda Immunization and Memory Booster
Swarnaprashan - Ayurveda Immunization & Memory Booster
Swarnaprashan is also known as Ayurvedic immunization that is to enhance the immune power of body. Swarnaprashan is considered as one of the 16 essential sanskar described for improving overall health in children.
Swarnaprashan is made by using Swarna Bhasma mixed with honey and cow ghee containing herbal extracts like Vacha, Brahmi, Shankhpushpi all of which have strong immune boosting properties.
Health benefits of Swarnaprashan are explained in an ancient classic text book called "Kashyap Samhita".
Boost Immune System

Enhance Memory

Improves Digestion

Nourishes the Skin

Improves Hearing and Vision

Improves Overall Physical and Mental Health

Reduces Mental Agitation

Guards from Various Allergies

Strengthening Muscles and Bones

Improves Complexion and Growth of the Body
Overall its makes, child healthier, stronger and mentally fit. It improves the child digestive system and immunity power.
For more details visit Swasthasya Ayurveda and consult with Dr. Priya Gupta. You can also Book Doctors Appointment Online through Spirals Health website.
Swasthasya Ayurveda
Swasthasya Ayurveda is a ayurvedic clinic manage by Dr. Priya Gupta. She is passionate, dynamic and experienced ayurveda doctors. She is practicing and serving in Noida Extension, Uttar Pradesh, India.
She has an experience as ayurveda is 14-years experience. She has expertise in ayurvedic medicine in gynecology (Infertility Leucorrhoea Ammnorrhoea Dysammnorrhoea Menorrhagia Ovarian cysts Fibriod).
You can also Book Doctors Appointment Online according to your convenient date and time through Spirals Health.