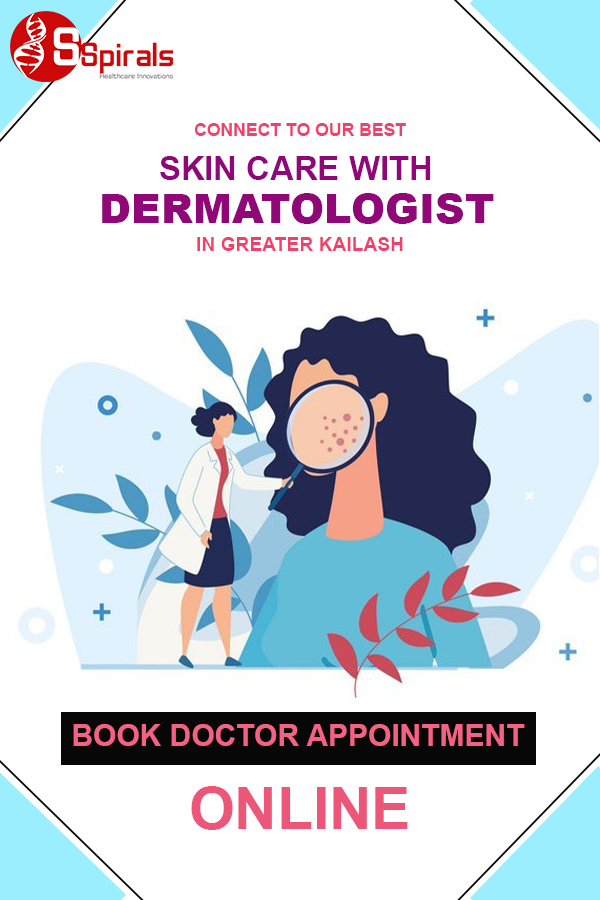 Skin Care with Dermatologist in Greater Kailash
Skin damage, acne, scars, hair damage, and nail problems are the biggest problem for everyone especially for women. It is nearly impossible to take better care of your skin in this hectic life. Dermatologist in Greater Kailash is the only way to take care of our skin easily.
Dermatologist
Dermatologists are the doctor who has specialization in condition related to skin, hair, and nail. They can identify more than 3000 conditions related to skin. These problems include eczema, skin cancer, psoriasis, and many other conditions related to skin. TO become a dermatologist you have to complete 12 years of medical education and training.
Specialty areas of Dermatologist
Medical Dermatology

Surgical Dermatology

Pediatric Dermatology

Cosmetic Dermatology

Cutaneous Lymphoma

Dermato immunology

Dermatopathology and Oral pathology

Photomedicine
The acne and scars seems to be upsetting as it spoils beauty. Severe acne can affect your self esteem and it can left scars as a reminder of acne. Scars are the results of deep acne. Acne is focused in a particular area of the skin and are scattered by the nearby area. Even a small scar or ace can be a self esteem issue and this may lead anyone to many psychological issues.
Some of the popular treatments for Acne and scars include
Dermabrasion

chemical peels

steroid injection

soft tissue augmentation

laser treatment.
It is always good to consult a dermatologist in Greater Kailash at the initial stage to find out what kind of acne and scar is affected with. Spirals health is the best platform to find a dermatologist in Greater Kailash, Noida, Delhi or any other city of India.
How to maintain skin health
There are many toxic things have been mixed with our environment which are harmful for our health and skin. Specially in summer season our skin get more damaged because of sweating and extreme temperature. Use of wrong skin product can also damage our skin. We should always use product according to our skin type. A dermatologist in Greater Kailash can help you to know your skin type.
We can tell you some steps to maintain you healthy skin. Which are as follows-
Try to avoid Junk Food:

You must avoid all the junk food out from your daily food habit. These types of food contain sugar and oils that can cause certain conditions such as acne. It can also be the cause of increasing oiliness in your skin.

Follow a Healthy Diet:

You should eat a lot of green and fresh vegetables and fruits as they contain antioxidants which help in limiting free radical damage. They also contain lots of vitamins and minerals which are necessary for the skin health. Everyone should include at least 3 servings of vegetable and 1 serving of fruits in diet on daily basis.

Pay attention to Certain Lifestyle Habits:

Avoid smoking because it can tamper with the blood supply to your skin. You should also do daily exercise such as running because it improves blood circulation and keeps your body weight at optimal levels.

Drink Plenty of Water:

Our body contains at least 70 percent of water so water is an essential thing for our body. Drink water as much as you can. Drink at least 2-3 liters of water daily as it removes toxins from your body. Water helps to keep the body hydrated which is always good for your skin.

Clean your Skin:

Always keep your skin clean because dirt can accumulate and lead to dull skin. Use a mild or herbal cleanser that is free from harmful chemicals and wash your skin on a daily basis. Wash your face at least 2 times in a day with face wash.

Protect your Skin from Dryness:

The outer layer of our skin is made up of about 30 percent water, much of which is bound in the lipids that help to stop the water from evaporating. A good-quality moisturizer can increase your skin's ability to bind water. A good natural moisturizer includes citrate, various minerals, urea, lactate and amino acids.

Choose your Sunscreen with Care:

Apply sunscreens which contain minimum SPF count of 35. Also, keep your skin covered while going out because the harmful ultra violate rays of sun can damage your skin. Excessive exposure to the sun light may cause sunburns or even skin cancer. 
Never treat your skin with carelessness. Always use product for your skin which is recommended by your dermatologist. Always treat your skin with care. If you are unable to find a good Dermatologist in greater Kailash, Spirals health can help you to find a good one.