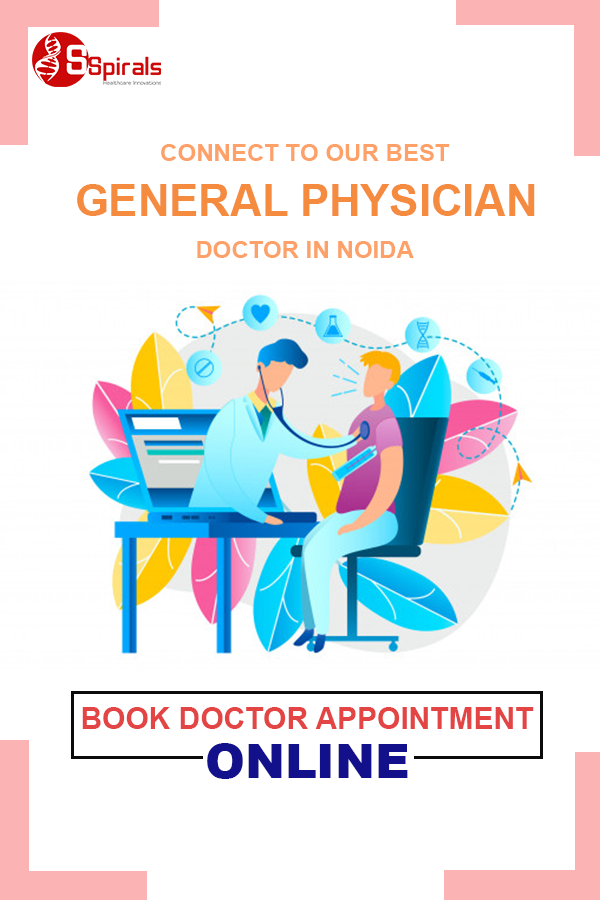 How to consult General Physician in Noida online
What does a general physician do?
General physicians are trained to treat almost all medical conditions and diseases that affect the body. This includes problems related to respiratory, cardiovascular, gastrointestinal, endocrine systems, etc. A general physician provides primary treatment which does not involve surgical treatment.
A general physician in Noida is a general medicine doctor who provides preliminary medical care for all medical conditons and people of all age groups. They treat common diseases and infections. Search for "general physician in Noida" to consult expert general physician right from the comforts of your home.
Common services that general physicians provide include
Regular physical exams

Prescribing medications

Treating minor illnesses and injuries

Managing chronic conditions

Screenings for common health problems
What conditions do general physicians treat
Fever, runny nose, cough, cold, itchy throat

Malaria, Dengue, Typhoid
Common life style diseases
Diabetes

Cholesterol

Thyroid

Obesity

Hypertension
Stomach infection
Stomach pain

Diarrhea

Vomiting

Gastric problem
Respiratory infection
Allergies

Asthma

Lung infections

Sinusitis

Pneumonia

TB
Joints pain
Backache

Foot pain

Frozen shoulder

Other symptoms of join disease
Furthermore, general physicians provide preliminary care for many other diseases. A general physician in Noida performs regular full-body checkups to ensure your health is in good condition
When should I see a general physician?
If you are experiencing any symptoms such as cough, weakness, stomach pain, vomiting, loss of appetite, breathing problem, and abnormal bruises, you need to visit a general medicine doctor immediately. They will do the whole examination of your body through health check-ups and diagnose the disease that may be causing the symptoms. Do not ignore the symptoms it can worsen and have severe long-term effects.
Medical specialties of General physician
Acute medicine

Audiological medicine

Cardiology

Clinical genetics

Clinical neurophysiology

Clinical pharmacology and therapeutics

Dermatology

Endocrinology and diabetes mellitus

General (internal) medicine

Genitourinary medicine

Geriatric medicine

Haematology

Immunology

Infectious diseases

Medical oncology

Medical ophthalmology

Metabolic medicine

Neurology

Nuclear medicine

Paediatric cardiology

Palliative medicine

Allergy

Pharmaceutical medicine

Rehabilitation medicine

Renal medicine

Respiratory medicine

Clinical neurophysiology

Rheumatology

Sport and exercise medicine

Stroke medicine

Gastroenterology
Do general physician perform surgery
Nope, general physicians offer non-surgical treatment for any medical condition and do not perform any surgeries. If your medical condition requires a surgical treatment, your general physician may refer you to the specialist.
Roles of General Physician
General physicians are highly trained to care for patients with complex illness.

They also give their patients health education.

Sometimes they also provide emergency surgical treatment to the patients who comes with a life threatening condition.

They also perform minor surgery if need.

One of the responsibilities of general physician is inspecting and updating patient's medical chart.

They are the ones on whom we all rely whenever we caught any common disease like cold, cough, flu, or any other general problem.

General physicians are trained to do many medical procedures for the diagnosis.

They also provide primary care to the patients with severe illness.
In big cities like Lucknow, Delhi or Noida finding best doctor has become a nearly impossible task but in Noida we can make it easy for you. You can online find doctor in Noida through spirals health