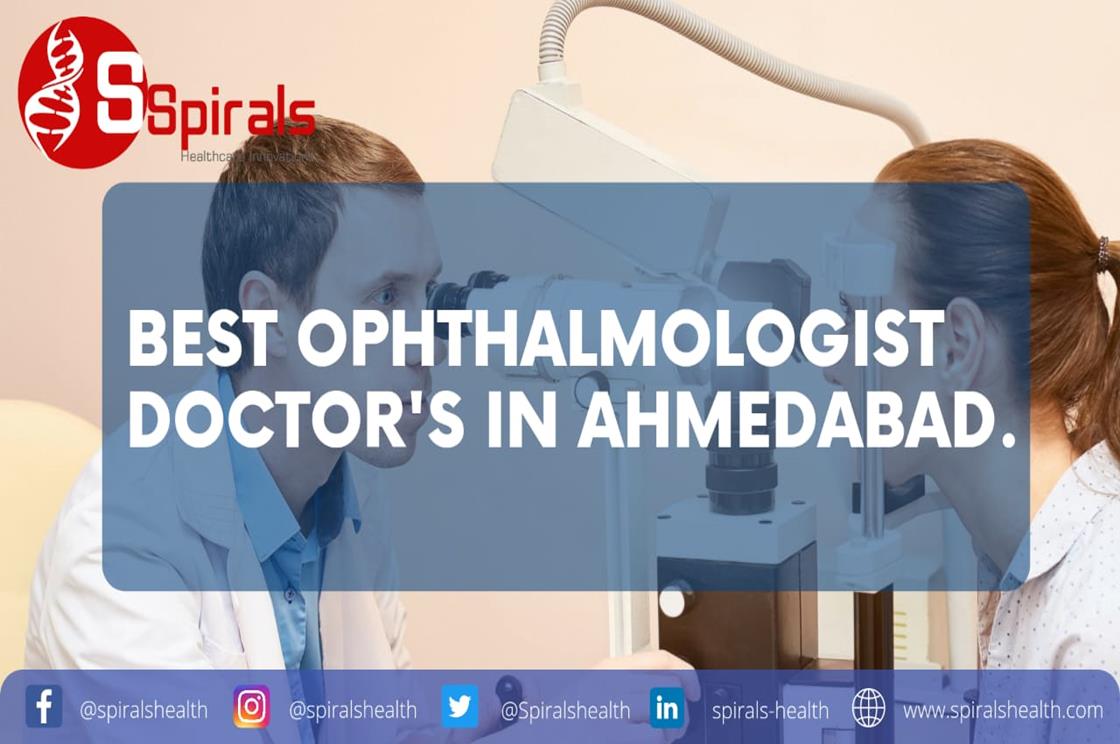 Best Ophthalmologist Doctors in Ahmedabad
When people think about making an appointment with an eye doctor, they often aren't sure whether they need to see an ophthalmologist or an optometrist. We are going to tell you the difference between these two eye care doctors and how do you know which one you need to see?
Optometrists are the eye doctor that can examine, diagnose, and treat your eyes and ophthalmologists are the medical doctor who can perform medical and surgical treatments for your eye conditions. So if you need the best ophthalmologist doctor in Ahmedabad, Spirals health can help you to find the best one. It is the great online platform to find a doctor in India.
Ophthalmologist
An ophthalmologist is a medical or osteopathic doctor who has specialization in eye and vision care. Ophthalmologists differ from optometrists and opticians because of their levels of training and in the eye conditions that they can diagnose and treat.
When it's time to get your eye check-up, make it sure that you are seeing the right eye care doctor according to your condition. Every person of the eye care team plays an important role in providing eye care, but many people confuse the different eye treatment providers and their roles in maintaining your eye health. You should choose your eye care professional according to the levels of training and expertise and what they are allowed to do for you. There are major differences between the types of eye care provider.
Optometrists
Optometrists are eye care professionals who give essential vision care going from vision testing and correction to the diagnosis, treatment, and management of vision changes. Optometrists are not a medical doctor.
For being an optometrist you will have to complete four years of optometry school after that receive a doctor of optometry degree after completing 2 to 4 years of college-level education. They are authorized to practice optometry, which includes performing eye exams and vision tests, prescribing and dispensing corrective lenses, detecting certain eye abnormalities and prescribing medications for certain eye diseases. Many ophthalmologists and optometrists work together in similar workplaces, as a team.
What is ophthalmology?
Ophthalmology is the study of medical diseases relating to the eye. Ophthalmologists are doctors who have specialization in the medical and surgical treatment of eye.
A general practice doctor or Optometrists may refer patients to an ophthalmologist if they show symptoms of cataracts, eye infections, optic nerve problems, or other severe eye conditions.
Specialization of ophthalmologist
They have specialization in
Glaucoma

The cornea

the retina

Uveitis

Refractive surgery

Pediatrics

Neuro-ophthalmology

Plastic and reconstructive surgery

Ocular oncology
Procedures that ophthalmologist doctors in Ahmedabad perform
Diagnosis and monitoring of severe eye conditions

Cataract surgery

Glaucoma surgery

Perform Refractive surgery to correct vision

Cancer treatment

Reconstructive surgery to repair trauma or birth abnormalities, like crossed eyes

Chronic or severe tear duct infections or blockages

Neoplasm (cyst, tumor, or foreign object) removal

Monitoring or consulting on cases related to other problems, such as diabetic retinopathy or immune conditions

Injections around the eyes and face to modify facial structure and physical appearance

Repair and treatment of torn or detached retinas

Corneal transplants
When to see an ophthalmologist
You should see an ophthalmologist because they are experiencing chronic or severe vision symptoms or signs of eye conditions, like:
Bulging eyes

Reduced, distorted, blocked, or double vision

Excessive tearing

Eyelid abnormalities or problems

Seeing colored circles or halos around lights

Misaligned eyes

Black specks and strings called floaters in the area of view

Seeing flashes of light

Unexplained redness of eye

Loss of peripheral vision
A person may need emergency care from an ophthalmologist if he or she is experiencing symptoms like:
Sudden vision loss

Sudden changes in vision

Sudden or severe eye pain

Eye injury
Spirals Health is the leading healthcare website in India for online booking appointments of the doctor in Ahmedabad, Ghaziabad, Delhi, Lucknow, etc. it enables you to find the best ophthalmologist doctor in Ahmedabad you can also compare your eye surgeon with other eye surgeons in the area to book your appointment online with the best ophthalmologist doctor in Ahmedabad.