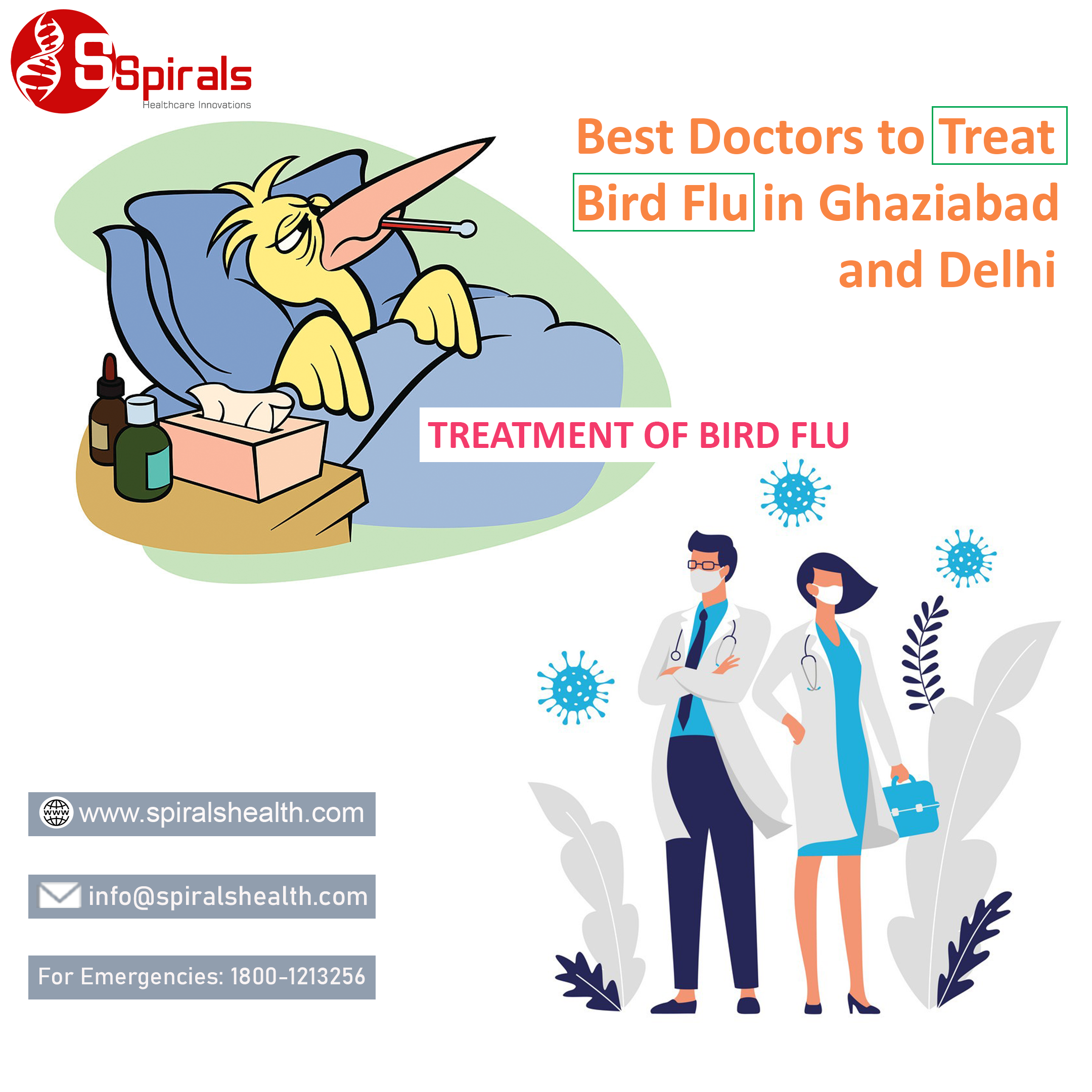 Best Doctors to Treat Bird Flu in Ghaziabad and Delhi
The department of animal husbandry and dairy science has been declared Bird Flu in some states of the country. Till 11th of January, 2021, Avian Influenza or Bird Flu has been confirmed in 10 big states of the country. 
In the initial stage, the outbreak was confirmed in 7 states of the country – Rajasthan, Kerala, Madhya Pradesh, Haryana, Himachal Pradesh, Uttar Pradesh, and Gujarat. 
On the 11th of January, influenza has also been confirmed in Uttarakhand, Maharashtra, and Delhi. 
Today, most people wish to know about Bird Flu and its treatments. They are searching for doctors in Ghaziabad and Delhi for the treatment of Avian Influenza. In this health guide, we explain all about the birds' flu and how can you book a doctor appointment online in Delhi and Ghaziabad.  
What is the flu?
Flu or influenza is a viral infection that attacks the nose, lungs, and throat. It is a contagious respiratory condition with symptoms ranging from mild to severe. Doctors in Ghaziabad can recommend anti-viral medicines to treat this particular condition. 
Influenza and the common cold have similar effects or symptoms. Sometimes, it can be difficult to understand the difference between a common cold and influenza. You should book a doctor's appointment online in Delhi to discuss all your symptoms and their root cause. 
Anyone at any stage of life can become sick with Avian Influenza, but some individuals have a higher risk for infection – children under 5 years of age and old people over 65 years of age. They should consult with their doctors in Ghaziabad immediately; if they experience any symptoms of flu. 
The risk of this viral condition also increases if you have a weakened immune system or a chronic condition, such as: 
Kidney disease 

Heart disease

Diabetes type one or two
People with such conditions should also visit their doctors in Ghaziabad & Delhi to understand all their risks associated with viral influenza. 
What are the symptoms of the flu? 
In the primary stage, it can mimic a common cold. Early symptoms may include: 
Sore throat 

Runny nose 

Sneezing 
Over time, your symptoms can worsen and result in;
Achy muscles 

Fever 

Body chills 

Sweating 

Headache 

Dry cough 

Fatigue 

Nasal congestion 

Weakness 

Fatigue, etc.
Doctors in Ghaziabad can explain your symptoms in a better aspect. Visit them if you experience any symptoms of Avian Influenza. 
What to Know about the Bird Flu? 
Avian influenza or bird flu is a viral infection spread from bird to bird. Currently, a dangerous strain of bird flu known as H5N1 is spreading in India and other parts of Asia. Researchers and doctors in Ghaziabad consider it a highly pathogenic avian influenza virus. It leads to certain deadly symptoms in birds and even in humans if they have been infected with the H5N1 virus. 
Since its first human case in 1997, this virus has killed about 60% of patients who have been infected. 
How Humans may get infected with bird flu? 
Person-to-person transfer of this virus is not common. People who work in close contact with infected birds (alive or dead), or eat half-cooked or uncooked poultry products are at high risk. 
Doctors in Ghaziabad give these two reasons behind the spread of bird influenza in human; 
Direct contact

 – You can get infected after touching infected birds and then touching your nose, mouth, or eyes. 

Contaminated 

– A healthy bird can also spread H5N1 through its dropping on surfaces. 
The virus in the Air
It may be in the air in form of dust or droplets after an infected bird flaps its wings of shakes. You can get the virus if you inhale it. 
You can book an online doctor appointment through Spirals Health and consult all your confusions with the professionals.