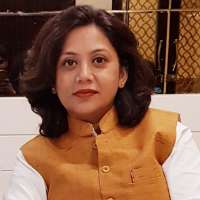 Dr. Khushbu Priyadarshini
Dentist (Dental Surgeon)
Director
INTIMUS HEALTHCARE
Sector 41, Noida, Uttar Pradesh, India
7428528457
Services
Dental Implants
RCT
Endodontic
Pediatric Dentist
Dental Surgeon
Dentofacial Orthopedist
Tooth Colored Filling
Complete Denture (Flexible/Non Flexible)
Treatment of Gum Diseases(Pyorrhea)and Laser Surgery
Fixed Denture
Bleaching/ tooth Whitening
Dental Fillings
Impaction / Impacted Tooth Extraction
Dental X-Ray
Dental prophylaxis
Tooth Air Polishing
Scaling / Polishing
Discolored Tooth Restoration
Crowns and Bridges Fixing
Veneers / Laminates
Dental Restoration Smile Design
Ortho Treatment with braces and without braces (Esthetic Aligners)
Dental Implants (Immediate Implant sinus Lifting Surgeries Ridge Splitting and Ridge Augmentation)
Dr. Khushbu Priyadarshini Dentist (Dental Surgeon). She Sector 41, Noida, Uttar Pradesh, India.
Her Dentist (Dental Surgeon) 11 Years
Dr. Khushbu Priyadarshini has expertise in Implantologist , General and Pediatric Dentistry, Dental Surgery
Dr Khushbu Priyadarshini is highly qualified, have 11 years of experience and trained on modern technology to provide best in class patient care. She owned a private clinic ACE Dental Center in Sector 41, Noida. ACE Dental Center is equipped with best in class infrastructure, modern machinery, and provides a clean and relaxed ambience for your comfort. ACE Dental Centre is best dental care in Delhi NCR and Dr Khushbu Priyadarshini is best Dentist in Noida.